It's 2019. Are we ready for the new year?
It's time to say goodbye and thank you to the past year. Goodbye for all the memories you want to forget and thank you for the moments you'll treasure forever.

2018 has been a year full of surprises. There were WOW suprises but we can't leave out the BOOHOO surprises. There were victories but also defeats. There were laughter but also tears. THE MOST IMPORTANT IS WE ARE STILL ALIVE, BREATHING AND KICKING.

So as a kickstart, let me give you some tips to remember and to bring with you this 2019.

1. Forget the past pain

"Whatever happens in Vegas, stays in Vegas" in the same way "Whatever happened in 2018, stays in 2018".

Your 2018 may be full of struggles and hardships. If you're a student maybe you struggled with your studies, you tried so hard to study and pulled an all-nighter for that exam but end up failing it, or maybe you are in your 30's and you're still single, you keep on thinking why your friends are all getting married except you. Maybe you are married and you realize it is so different from being just boyfriend and
girlfriend.

DON'T DWELL ON THAT. Don't dwell on the moment when you failed your exams, don't linger on the instant when you saw him with another girl, don't stay on the time when you were left at the altar, don't remain on the situation that made you broken and devastated, remember as Jesus broke the bread to feed 5000 men, miracle happened because THERE IS MIRACLE IN BROKENNESS.

In finishing a race, you will only be able to win if you pass through the fabric line and not just stopping at the end. Go beyond that line, go beyond that pain, go beyond that break-up, go beyond that failure, go beyond that suicidal thought, go beyond that loneliness, go beyond!

2. Reach your goals

What do you want to be? What is your ambition?
When we were still kids, adults often ask us these questions. As you evaluate your actual situation, are you now a doctor? Are you now a dancer or a singer? Are you now a lawyer? Or do you consider yourself a frustrated one? 

It's never too late to reach your goals. I challenge you this year to really reach your forgotten goals. Study again, enroll to that dancing class, sign up for that voice lesson. Each one of us has our own timetable, don't get discouraged when you see other people being succesful and happy. You will be successful at your own time and on your own unique way. Horses were given blinders for them not to be distracted on their journey and for them to focus on their own trail in the same way LET'S NOT BE DISTRACTED AND BE FOCUSED.

3. Move forward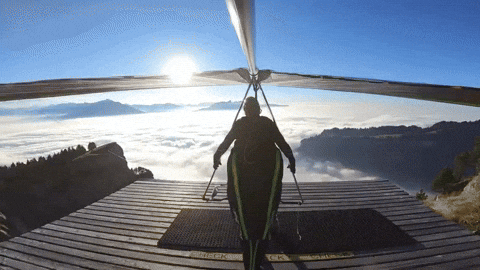 Despite all the things that had happened to us in the year 2018, let's not be stagnant instead let's move forward. All things work together for good for those who love God (Romans 8:28), so leave everything behind, leave every single bad thing in 2018 and bring joy, happiness, peace, hope and love in 2019.
Your best days are ahead, not behind.

Don't bring with you the destructive things of 2018 because unless you'll be able to let go of it, you'll be truly happy and free.
Move forward, just move forward. Don't go back to the toxicity that ruined the things for you but instead, move forward. Do the things that you love and do the things you've always wanted to do.
Go after the things that you've always desired. Go where your heart takes you and don't you ever go back. Don't go back to your old bad habits. Make yourself fruitful and productive, be the better version of yourself.

Lastly,

4. Enjoy the journey
Whatever God has planned, it will happen. Trust in Him alone. This new year is going to be great, don't start the year with a negative mindset instead believe that it will be great. Enjoy life's blessing and moment. Live everyday as if it is the last. Make every second count. Leave a great impact to every person to your life, to every new person you'll meet and even to every person you've always had in your life.

The year
is a year of blessings, breakthrough and victories.

God bless you and your whole two thousand and nineteen.

Here is my little challenge for you to ponder. Think of all the things that has happened to you and evaluate what are the things you want to improve.

What are your goals this year? Leave it on the comment box below!
XO,
Miss F
Please reload