Europe has plenty of travel destination and it can be hectic particularly when travelling in a short period of time. This continent has a total of 51 independent states as of 2018. It is filled with postcard-worthy places, bucket list checkers, diverse cultures, historical monuments, movie locations, royals, mouth-watering food and so on. The list is endless! It has proven to be one of the most sought after continent to go to.
If you are thinking to visit Europe, we suggest that you sit and plan it carefully. Do not go all in and do not go crazy! Each country has a unique experience to offer and rushing from one place to another will only burn you out than thrill you.
Here is some major list to consider when planning:
Timetable

Budget

Travel style (Individual, group or guided tours)

Interest (Music, Arts, History, Nature or Big Cities)

Visa and passport
Knowing the answer to this list of things to consider will help you narrow down the places that will suit you best. Avoid jumping from one country to another with fewer than 3 days' interval – it will only make you exhausted and regret your trip.
Out of the 51 Countries/states to visit; Paris, London, Barcelona and Rome are the top cities that dominates the tourism industry for the past years. It is every girl's dream to visit Paris because of its romantic atmosphere and magically-like vibe. But did you know that you can equally get this feel when you visit #PRAGUE? Yes, the underrated city located in Czech Republic. You heard it right, people!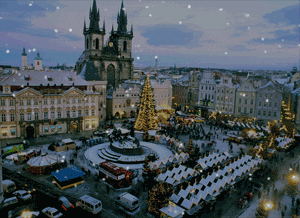 Prague is located in central Europe and has been brutally occupied by Germany during the war. Contrary to their neighbouring countries, they have been preserved during the world war II meaning most, if not all, of their infrastructure is still standing as of today. We went to visit Prague for Miss K's birthday this year and, much to our surprise, instantly fell in-love with this city!
Using the list we mentioned above, here are our example for this trip:
Timetable : 5 days and 4 nights

Budget: less than 339 US Dollars each

Travel style: Group of 4

Interests: History, castles, food, cityscapes and good coffee!

Visa and passport: The Czech Republic is a member of the Schengen Agreement.
List of things to consider BEFORE Travelling:
Valid passport & Visa

Have an extra bag inside your bag J (this could be useful later)

Google the place and learn as much as you can beforehand

Check the weather forecast

Download the transportation app or google maps

Do the currency exchange on your home country to avoid ATM scams
Day 1: OSL – PRG
We flew using Norwegian Airlines and took us about two hours flight. #PerksOfLivingInEurope
The first thing that we engage ourselves was eating at KFC's since we don't have one back home.
Our first hotel accommodation is outside the city centre and took us about 20 - 30 mins to arrive in the said location.
The first thing that we did was to look for food outside of the hotel and we stumble upon a shopping mall but we have underestimated the weather and therefore almost got sick. The weather can be deceiving during spring time, Sunny in the day and chilly at night. We took a taxi and regretted going out at the first place. The hotel is in Praha 9 and we can say that this place is the least tourist-friendly area in the city.
Our rating:  Wellness Spa Step Hotel
Location: ⭐️⭐️⭐️
            It is not a great area for first-time tourists. The nearest mall is about 15-20 
            min walk.
Hotel experience: ⭐️⭐️⭐️⭐️
            Great indoor activities. We went bowling and laughed our heart out! It was
            fun.
Accommodation: ⭐️⭐️⭐️⭐️
            Nice sleeping area. They don't have an AC during winter and early spring.
Service: ⭐️⭐️
            Not super happy about their service but It was okay, I guess.
Breakfast buffet: ⭐️⭐️⭐️⭐️
            The breakfast is good! Lots of variety to choose from.
Day 2 & 3: We transferred to Sheraton Hotel
Day two is the most hectic day in this trip but most rewarding, I should say! We left our bags and explored the city right after arriving. Being right in the city centre made it easy to access the tourist spots in the area.
We went to a guided boat-ride in the river and learned about the brief history of the city. It was a full 45 min tour with free ice-cream (highly recommended).
We visited the swaying building as well. We wanted to walk even more but our feet won't allow us anymore so we decided to take a quick nap and get ready for the night.
Birthday Dinner
Miss D made the reservation at one of the finest dining in the city to celebrate. Tips: book as early as booking the plane tickets and have your reservation before sunset for optimal view. We glammed up and was accompanied by a limo to Oblaca. The food was superb and we got to meet the chef as well. We had a fine dining with a lot of laughter.
Location: ⭐️⭐️⭐️⭐️⭐️
Restaurant experience: ⭐️⭐️⭐️⭐️⭐️
Food: ⭐️⭐️⭐️⭐️⭐️
Service: ⭐️⭐️⭐️⭐️⭐️ 
Hotel 2: Sheraton
Location: ⭐️⭐️⭐️⭐️⭐️
           Location is very good. Accessible to most of tourist spots in Prague.
Hotel experience: ⭐️⭐️⭐️⭐️⭐️
           We had a private sauna! Tips: Always ask or search about the details before             booking.
Accommodation: ⭐️⭐️⭐️⭐️⭐️
           They serve complimentary coffee and tea. Bed was super comfy. Everything             there is worth the penny. Best of all three hotels.
Service: ⭐️⭐️⭐️⭐️⭐️ 
           Very helpful and accommodating.
Breakfast buffet: ⭐️⭐️⭐️
            The food was great but there wasn't much to choose from.
Day 4: We transferred to Metropolitan Hotel
We transferred by foot and tell you what? It was hard to find but we did. The location is minutes away from the Astronomical Clock but we couldn't see it because it was under renovation. This was the last hotel we booked on the trip and most certainly not the least. They gave us free champagne after knowing that someone just had a birthday but unfortunately, we don't drink so they gave us something else. The service was over the top. Thank you, guys!
After settling in our hotel room, we went out to explore the other side of the city. We started off at the old town square where we tried our first Trdelník and then to Charles bridge. We rented out a vintage car up to the castle and St. Vitus cathedral. After the tour, we headed to try out some authentic Czech food.